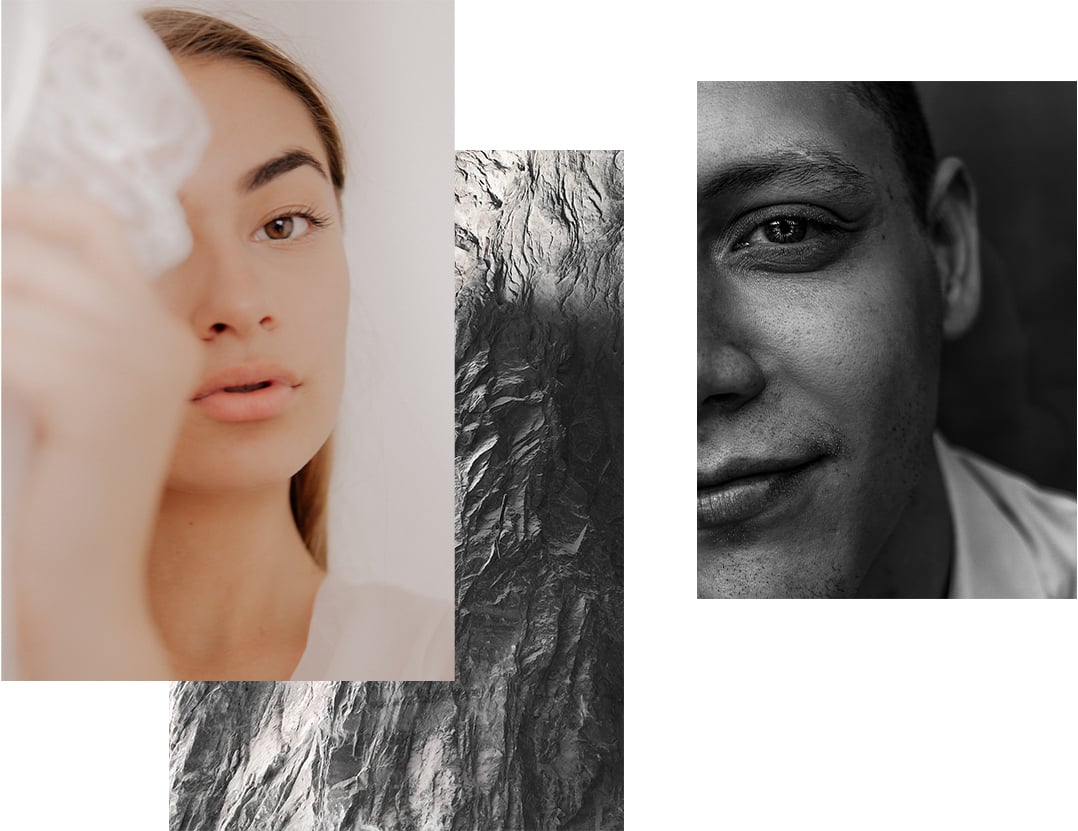 The jewel of the body, the mirror of the soul, the silent tongue of love. Being the most distinctive feature on the face, the eyes are certainly one of the first things we notice in a person. They say it all without a single word. And they don't know how to lie. That's why tiny little eye contour problems like crow's feet, fatigue, sensitivity, discomfort or redness may be quite bothersome. The eyes read the world around us and provide a truthful response. How can we help them feel good and look fresh?

The skin around the eyes is four times thinner and more delicate than the rest of the face. It is the first to react to stress and irritation. Regardless of our wish, the eyes sometimes reveal too much. MADARA's founder Lotte Tisenkopfa-Iltnere shares her concerns:
"My life involves frequent travelling, therefore I often come into contact with unhealthy dry conditioned air, as well as a cocktail of viruses and urban pollution. I have always been afraid of having irritated, red eyes, which is especially disturbing when I'm giving a presentation or a lecture".
SOME ANATOMY
Let's examine some anatomical hard-facts. The eye contour skin is super thin - only about 0.7 to 2 mm, whereas on the rest of the face it is 2 to 4 mm. This thin skin is pulled on by more than 20 muscles to enable us to express ourselves as we wish. There is also a shortage of sebaceous glands in the eye contour region, which means that the lipid layer protecting the skin is very slim and this region is more susceptible to pollution, environmental stress and pathogens. Lifestyle, including lack of rest, smoking, use of electronic devices, emotional stress – all of this tends to contribute to periocular discomfort. Ageing and gravity cause further damage - the skin around the eyes becomes thinner and darker, eyelids sag and wrinkles appear.
Eyes are our best friends
Some effort is needed to keep the eye contour fresh and plump. The two best friends pf the eye contour are sunglasses (nothing to hide, just UV protection) and an eye cream (or better – an army of eye creams). While you can rely on fashion trends for the best sunglasses, eye creams need hard science behind them. Luckily science and nature team up to produce safe, sustainable and evidence-based solutions to protect the beautiful jewels of the face. One innovative solution to safeguard our eyes has recently been developed by MADARA laboratory. It is called EyeBright Periocular Complex; a synergetic composition of six natural phyto-extracts that work in synergy to protect, soothe and restore the delicate eye contour.
Precious plants behind beauty
The title plant: Eyebright - Euphrasia rostkoviana has been used to cure eye diseases around Europe since the Middle Ages. And rightfully so, as it contains high levels of acteoside, which is a recently uncovered plant metabolite that acts as a neuroprotective, anti-inflammatory, antibacterial agent. As an addition it stores a range of antioxidants like chlorogenic and coumaric acid, flavonoids and organic acids that benefit the skin as free radical scavengers.

Camellia sinensis is known as the tea plant. It contains caffeine and antioxidants. And the vigour of caffeine is what we are here for. The eyes need a slight boost to ensure healthy circulation and leave puffiness in the past. It can also provide a potent antimicrobial effect.

Ginkgo biloba and Aesculus hippocastanum are true friends of our vascular system. Both plants care for our blood vessels, and each in their own way. Aescin, quercetin, bilobetin and ginkgetin are just a fraction of all the active molecules in these plants. In the human body they strengthen the walls of capillaries and ensure healthy circulation to provide cells with oxygen that is so necessary for life and wellbeing. An additional benefit is preventing the formation of dark circles, which can be caused by thin capillary walls.
"We developed a unique phyto-complex that addresses common problems of the periocular area, including puffiness and periocular skin darkening" says Anna Ramata-Stunda, biologist, MADARA Supervisory Board member. "In vitro testing results demonstrate that EyeBright Periocular Complex has a significant vasoprotective effect (strengthens capillaries), inhibits angiogenesis (pathological capillary formation), mediates inflammation-related factors, has anti-bacterial, anti-fungal and antioxidant effects. Inflammation-related factors are linked to capillary permeability, oedema or eyebags, while anti-bacterial and anti-fungal properties increase resistance against environmental pathogens."

Dermatological studies have demonstrated that cosmetic products containing the EyeBright Periocular Complex and accompanying active ingredients deliver a significant increase in skin hydration, as well as improve the elasticity of the skin.

Eye contact is a dangerous thing, but oh so lovely.
May your eyes be ready for it.
THE NEW COMPLEX IS INCLUDED IN MÁDARA'S NEW EYE CARE PRODUCTS:
SOS EYE REVIVE EYE CREAM-MASK
For dry, tightened, dehydrated and stressed eye area. Intensively moisturizes, reduces redness and swelling. Used as an eye area mask or daily cream.
RE: GENE OPTIC LIFT EYE SERUM
For mature, tired and highly demanding eye area skin. Intensively moisturizes, smoothes and strengthens eyelids, helps to reduce dark circles. Enriched with fine, natural minerals, it illuminates the eye area, giving it a fresher and radiant look. Apply to cleansed eye area, then apply eye cream.