Ieva Zībārte | 20 October 2021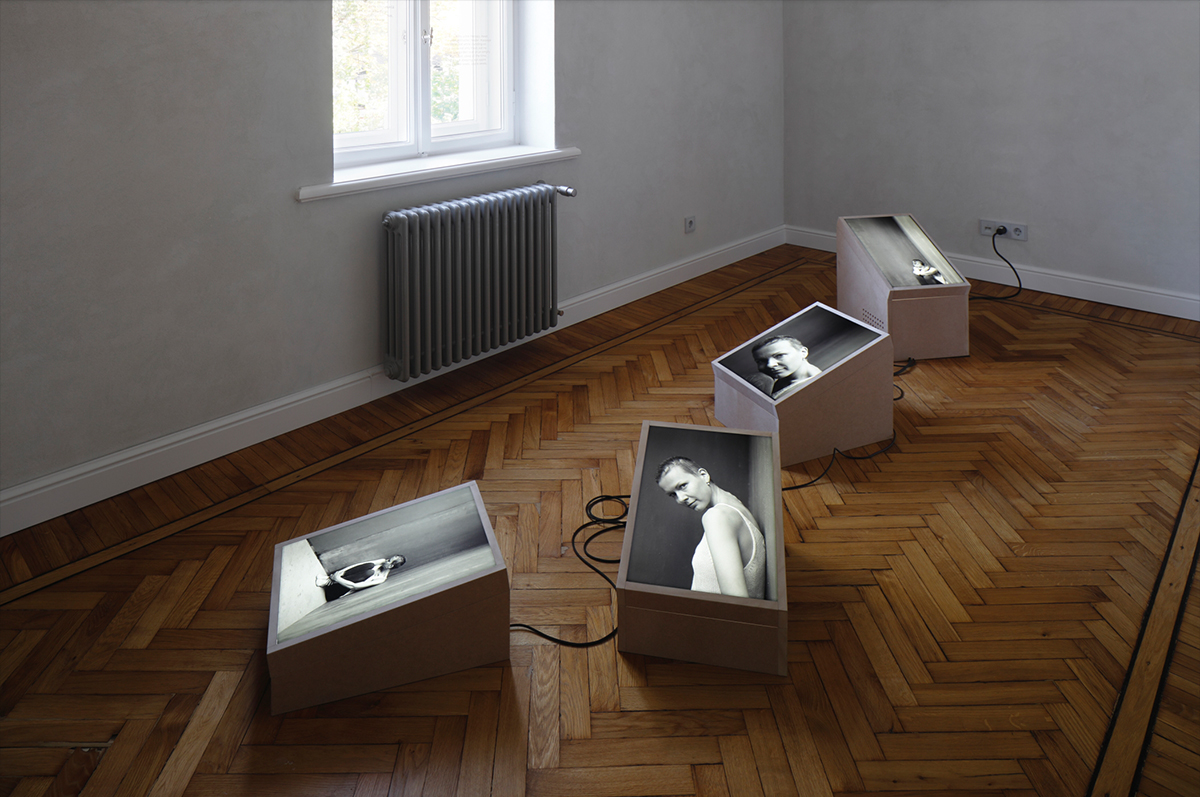 Encounter with the public. Photo: Ansis Starks
Self-Noises is a project, which is best visited alone or in the company of someone, whose presence encourages you to explore and discuss awkward topics. The most popular of these are the climate crisis, global pandemic, domestic violence, addictions, mental health, depression, loneliness and illnesses. But the list is way longer, because in the 21st century there are many things, phenomena and processes that require a radical transformation. Against this background, stories where the main characters experience and overcome illnesses or lose the fight are not popular. Even an empathetic audience that is ready to listen prefers traditional content – stories about history, love, fascinating personalities, science, technologies, sports and happiness.
Although it is formally an exhibition, I would like to encourage you to not only visit Self-Noises, but also participate in it. The exhibition is executed in a minimalist style, and the purpose of the visuals here is to somewhat establish a set for a situational play, in which one can explore the relationship with their body. Before opening the door and diving into the experience, it is important to highlight one more feature of this project. Even if you live in Pārdaugava, this project will feel like a journey abroad to an Ayurvedic Treatmeant in Kerala, a tour of Latvian castles and manours, a windy place on the coast of the Atlantic with a view towards Africa. This is a project that emphasises the importance of space – the environment, architecture and interior – in any kind of therapy, as well as in the life of a completely healthy person and in organising exhibitions, allowing architecture to become part of the story.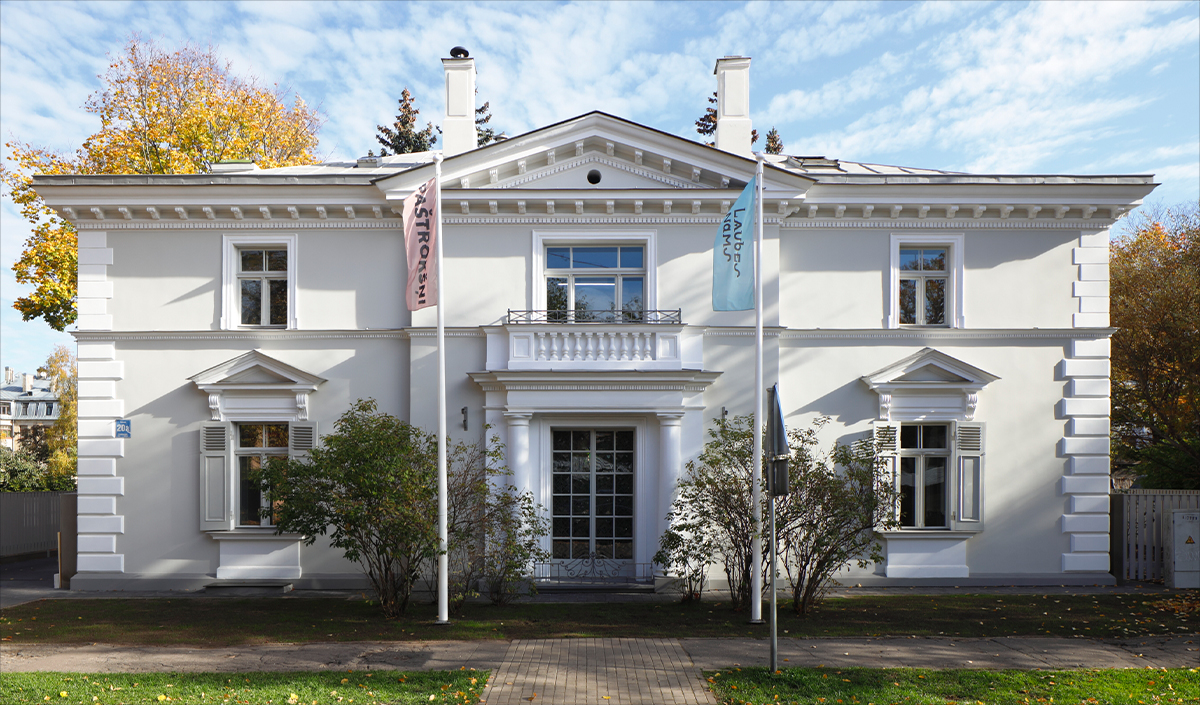 The renovated Eižens Laube House in Riga, Baložu iela 20a. Photo: Ansis Starks
The exhibition is on display at a renovated private house designed by the prominent Latvian architect Eižens Laube in the 1920s in Pārdaugava, where an intimate scale and certain silence remain despite the increasingly aggressive presence of modern architecture. It becomes meditative and particularly charming on Sundays when the traffic almost stops and for a while the determinants of this urban setting are the surrounding nature and historical architecture. Although Laube House was built when the dominant style in Europe and also in Latvia was modernism, it has classic, Italian-inspired forms with regional Art Deco features. The building's author and owner was forced to emigrate during World War II and died in the United States, but the building itself, having survived the Soviet era and Euro-renovations popular in the post-Soviet countries in the 1990s, is a monument to good construction culture even nowadays, where respect for tradition goes hand in hand with innovation.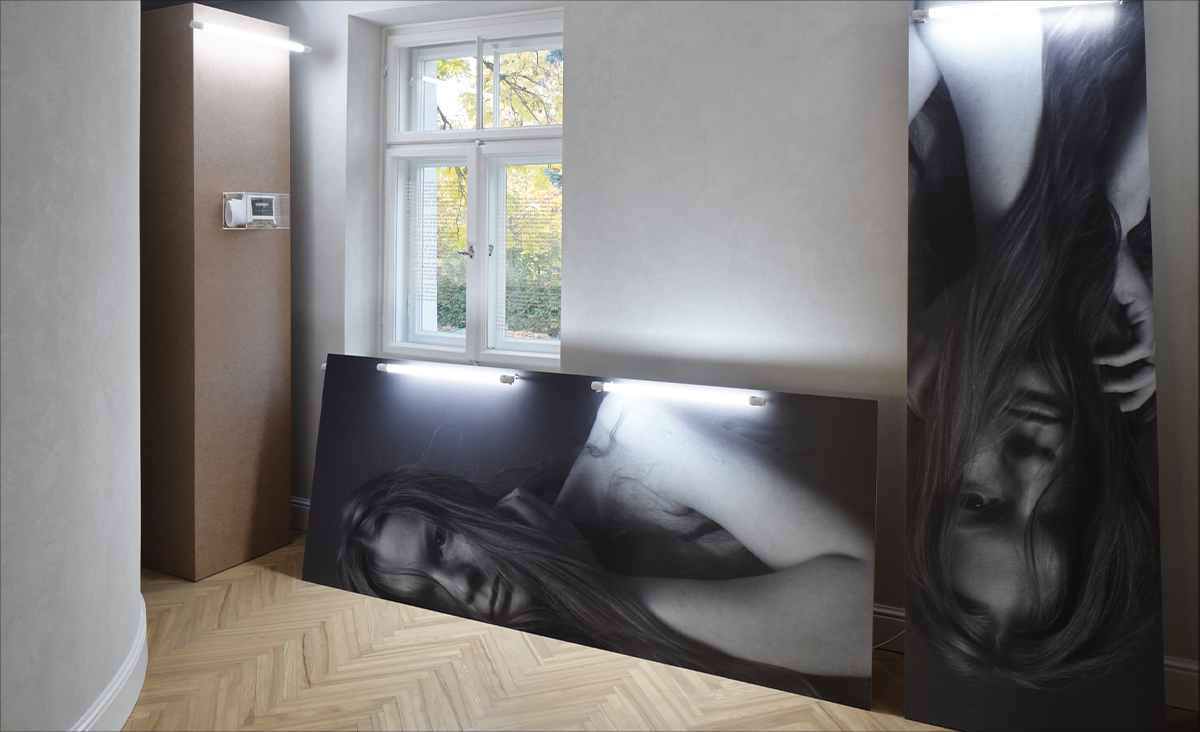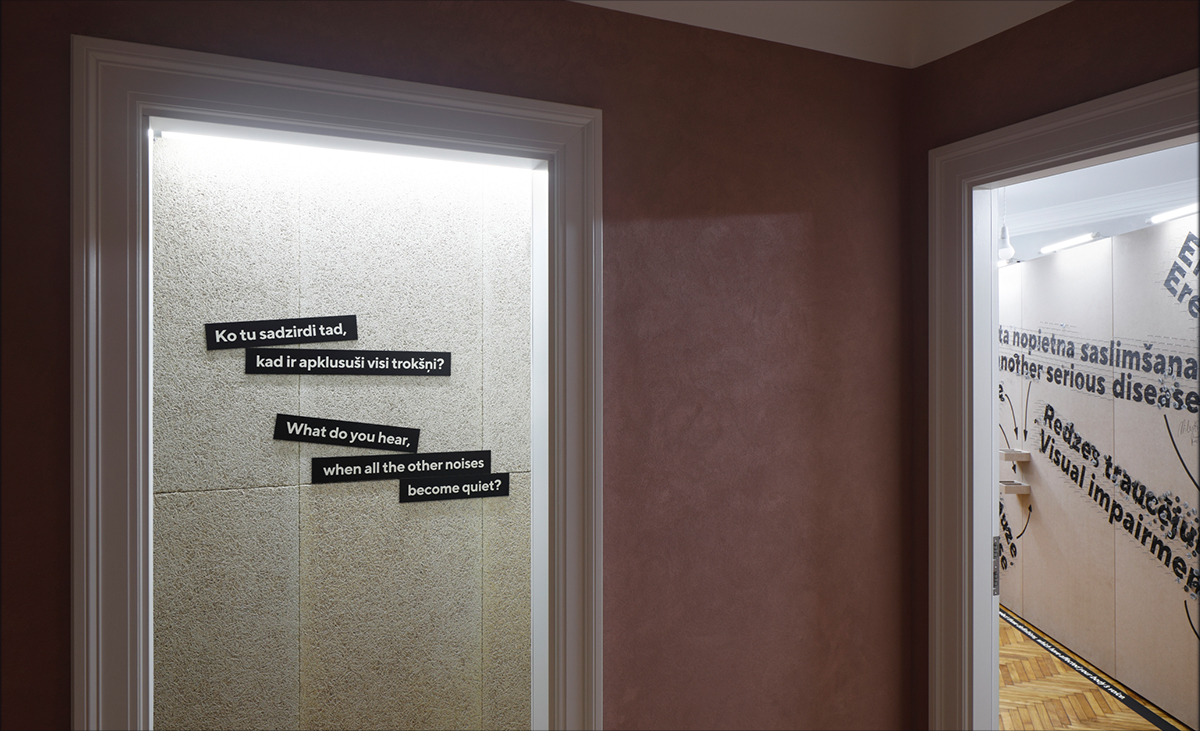 To enter Self-Noises, you have to open the doors of the old villa, a pleasant adventure on its own. The visitors are greeted by a warm, simple interior with grey walls, beautiful windows and doors, and very little furniture. The exhibition is located on the second floor in the former bedrooms, which, like therapy rooms, allow you to gradually become acquainted with the contents. In the first room we meet the protagonist – a beautiful young woman, who discovers she has cancer. Can we imagine how we ourselves would feel in this situation? What we know and can sense – this message will have to be shared with your close ones at some point, and the viewer faces this situation in the next room. Everyone has different close ones – their husband, children, parents. The exhibition takes us into a tomato greenhouse. Despite how, in this room with very few objects, audio and text, the greenhouse and characters of the scene are not visible at all, we participate in what is perhaps the most emotional part of the exhibition.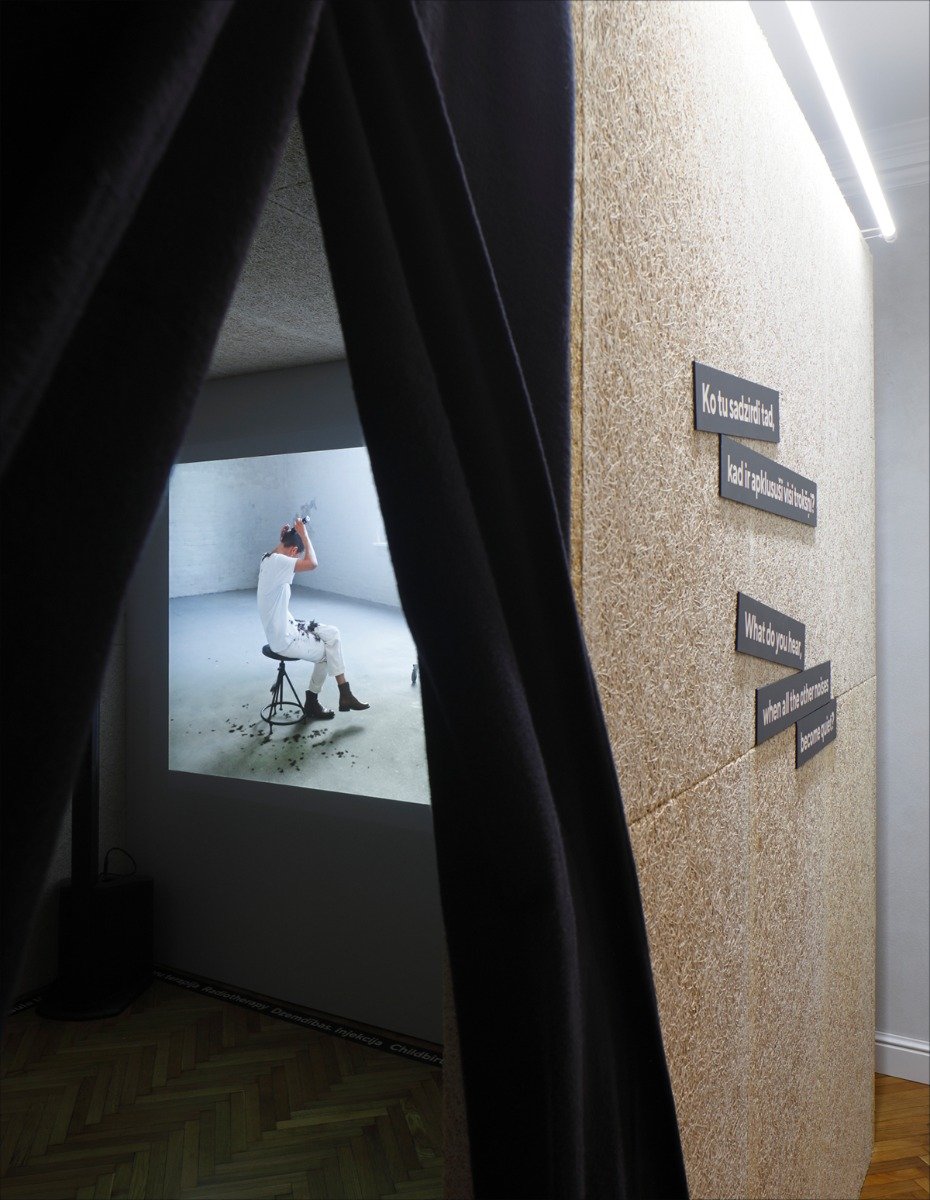 All noises. Photo: Ansis Starks
What follows is a room is about friends. Oh, those friends, smart acquaintances, co-workers and everyone else who know better! Here, with the help of a witty paragraph written on glass, we can remember all the stupid advice we have ever gotten in our lives. But not because someone would not be willing to help us – empty advice is often the only arsenal we have at our disposal to comfort someone, when receiving a message that is also shocking to us. The exhibition Self-Noises cleverly and elegantly models such situations, and also in the following rooms, where the story continues, the authors of the exhibition take the main theme from a personal to social level.

The exhibition is about the voice of a body – the self-noise we create when beginning a new relationship with our body or returning, over and over again, to those unresolved relationships that start the moment we are born in our own unique body. Nowadays, the body can also be altered, but it is not always and instantly possible. How to talk about this relationship? Should we speak only to ourselves, react to the self-noises of our own? Or should we start a broader dialogue, a new personal narrative, a new conversation with the society?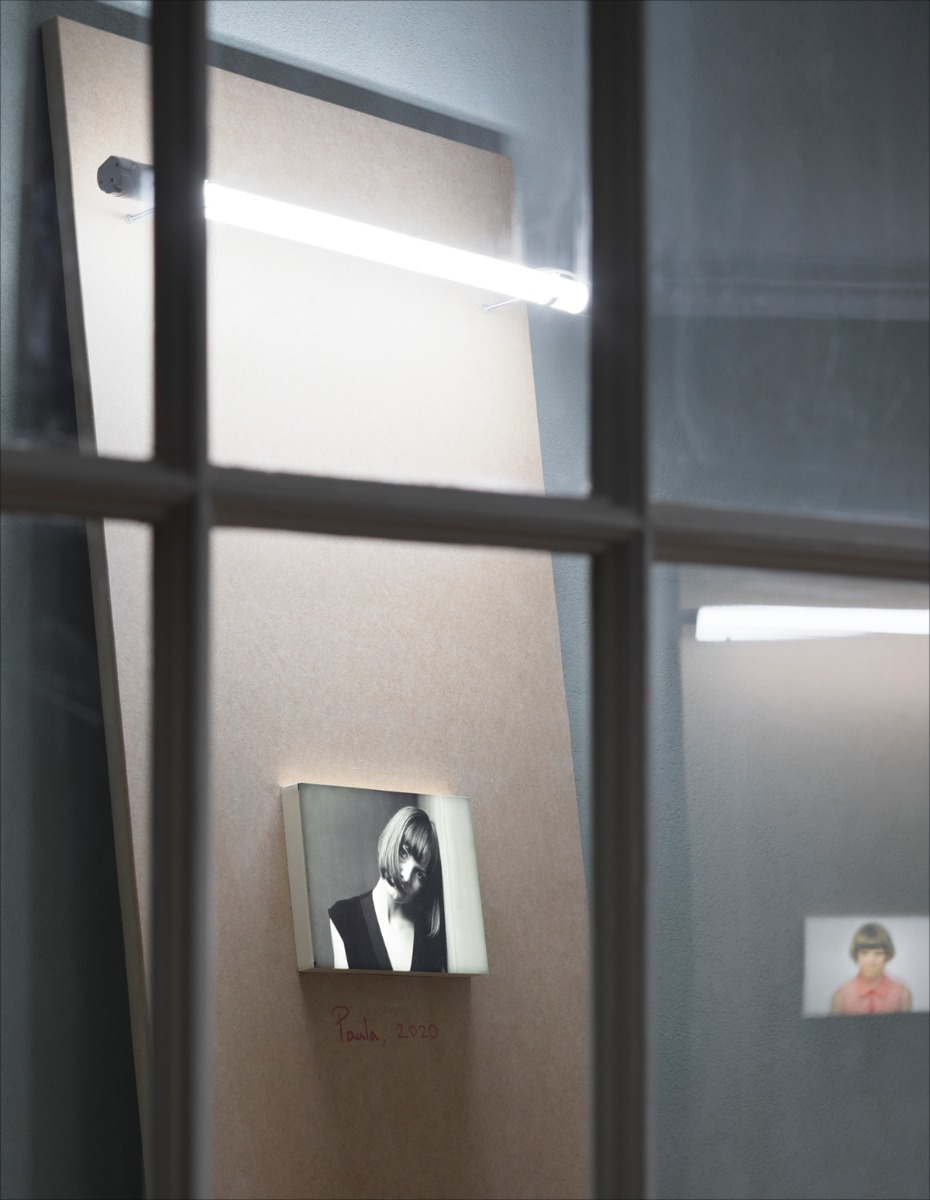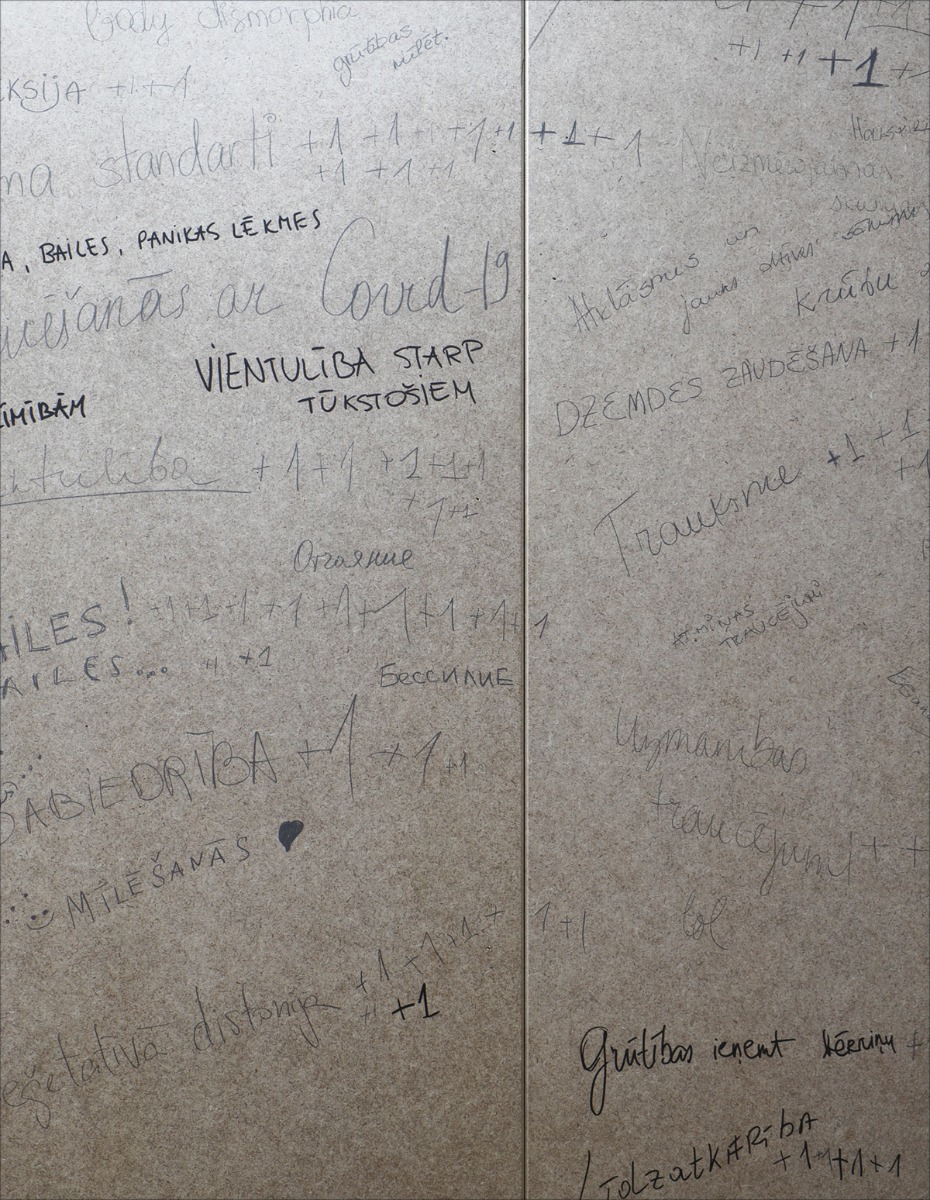 All noises. Photo: Ansis Starks
If you are looking for a story with a strong substance, precisely navigated and focused through design, which does not ignore our time and will most likely help deal with a certain worry that is not leaving your mind and creates unnecessary self-noises, Laube House will be your little autumn sanatorium, SPA for the soul, game of empathy. And it will also be a rest from the discouraging global noise caused by social inequality, poor urban environment, polluted nature and unhappy people. It is also an opportunity to help – the exhibition concludes in the largest room of Laube House with a garden view and colourful lights dancing on its wooden floors, cast through stained glass. In this spacious, clean room, you can leave a message, receive practical information about breast cancer, and make a donation to the Pink Train Foundation – an initiative that helps women, who have won the fight against breast cancer, to recover and return to life.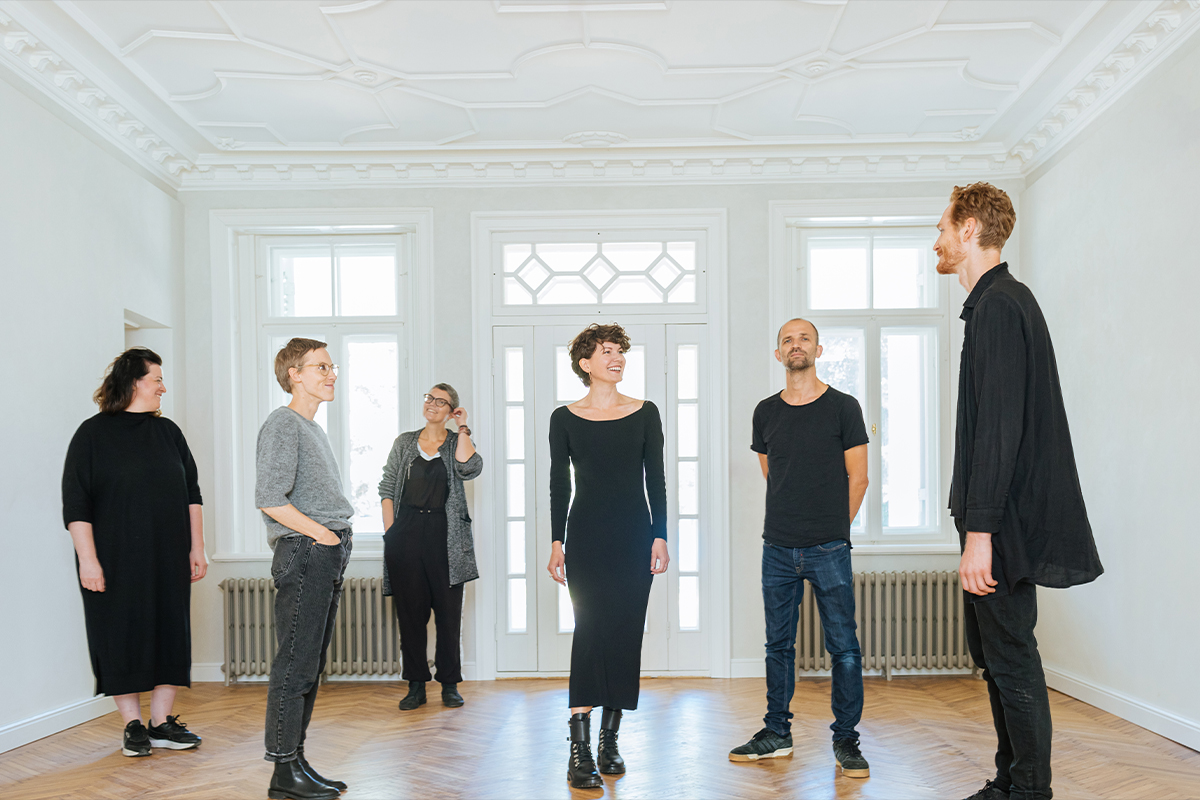 The creative team behind the Self-Noises exhibition. Photo: Ģirts Raģelis
The authors of Self-Noises
The initiator of the exhibition is Paula Tisenkopfa, curator Kristīne Liniņa, concept author and writer Inga Gaile, photographer Māris Ločmelis, designer and scenic designer Tatjana Raičiņeca, video and sound artist Rolands Briedis.

Authors of Laube House project transformation
Architectural restoration of the building – Liene Griezīte; building interior solutions and layout – Lotte Tisenkopfa-Iltnere and Jānis Donskis.
The exhibition is on display at Laube House in Riga, Baložu iela 20a, until 24 October 2021.
Due to the latest Covid-19 restrictions, the exhibition is closed to the public from 21 October.
Discover the Self-Noises story at selfnoises.com.