Oceans, seas, rivers and lakes are a lot like our planet's blood circulation system. You might not have realised this before, but even beauty products and little habits can make things either uglier or nicer.

This short film will tell you more about the interconnections between your daily choices and the environment — watch now

A Love Letter From the Ocean | Animated Short Film by MÁDARA Organic Skincare
5 THINGS TO CONSIDER
FOR MORE SUSTAINABLE AND OCEAN-FRIENDLY LIVING
1
COSMETIC INGREDIENTS
Read labels to avoid significant water and environmental pollutants. Beware of ingredients, which are grown and sourced endangering the natural habitats of wild animals.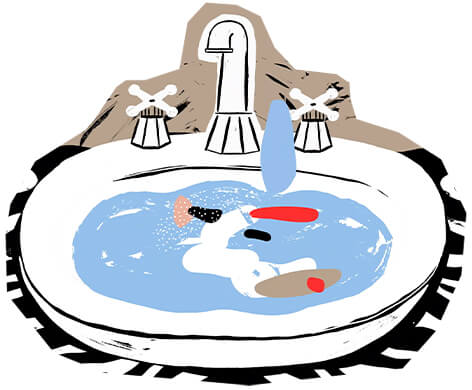 Not that great: parabens, silicones, phthalates, triclosan, chemical UV filters.
Better: natural or organic certified, biodegradable formulas without questionable substances that could hurt nature.
For further reading:
10 Potentially Toxic Cosmetic Ingredients (And How To Spot Them On Labels
2
PACKAGING
If you can, always choose skincare and makeup products in recycled, recyclable, biodegradable or refillable packaging — do your research online, check the symbols and indications on the packaging itself, or ask the brand or retailer for advice.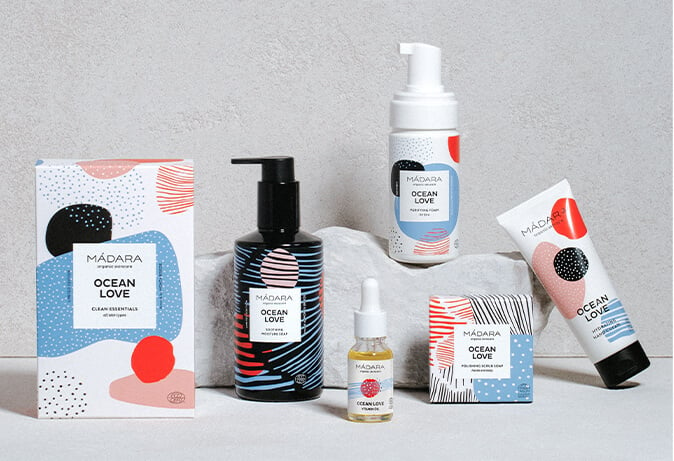 Not that great: non-recyclable packaging and single-use plastics.
Better: beauty products that come in eco-conscious packaging, made from reclaimed materials, as well as sorting your waste to give another life to recyclable items.
Good to know: we use innovative packaging solutions, including post-consumer recycled and plant-based plastics, and even recycled ocean waste.
This lets us give a second life to the existing plastic pollution and spare the planet from both CO2 and newly produced plastics. MÁDARA bottles, flacons and tubes have been 100% recyclable since 2006.
3
SHOWER TIME
Water heating is a significant source of carbon emissions. Take shorter showers and turn off the water tap while you shampoo your hair to minimise your CO2 footprint. It's that easy!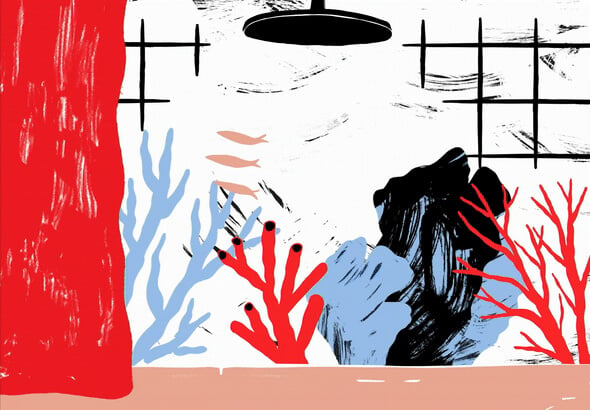 Not that great: showering for hours; keeping the bathroom or kitchen sink running while you are not using the water.
Better: by shortening the shower time by just 2 minutes, you can spare the planet from great amounts of CO2 each year. Imagine what happens when we all accept this challenge!
4
THOSE SHINY LITTLE THINGS
Have you noticed those tiny shimmering particles in your skincare and makeup products, which are not natural minerals? The use of synthetic glitter in cosmetics has grown massively in the past decade, and it's sad when one realises that there's no way to collect and recycle these non-biodegradable plastic particles.

Microplastics end up in the water and in wildlife, and are consumed by fish, marine animals and birds. Not fantastic at all.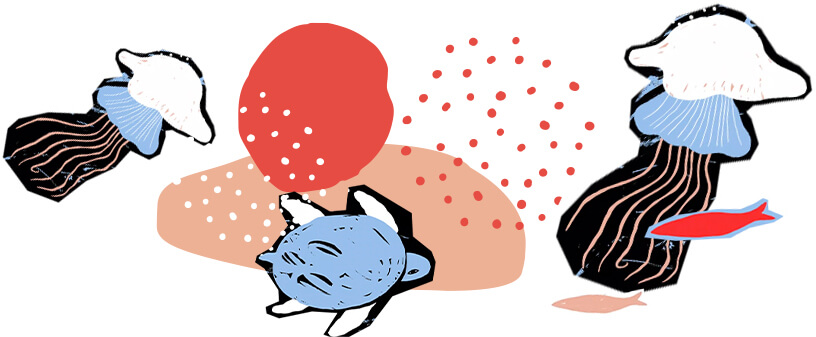 Not that great: skincare and makeup, formulated with synthetic glitter and microplastics: Polyethylene Terephthalate, Polyethylene (PE), Polypropylene (PP), Polymethyl methacrylate (PMMA), Nylon (PA), Polyurethane and Acrylates Copolymer, etc. And keep in mind there are countless more!
Better: cosmetic formulas, using natural minerals and plant-based pigments only.
5
YOUR SUNSCREEN
Replace your synthetic sunscreen with a mineral one. Chemical UV filters such as Oxybenzone and Octinoxate are literally killing young coral, promoting viral infections and causing irreversible coral bleaching.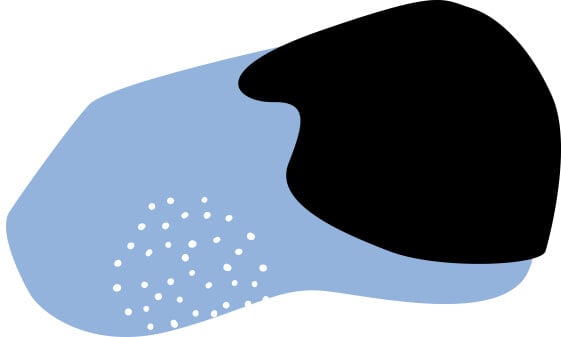 Not that great: products containing Oxybenzone (Benzophenone-3), Octinoxate (Ethylhexyl Methoxycinnamate), Octocrylene (Octocrilene), Avobenzone (Butyl Methoxydibenzoylmethane), Homosalate (Benzoic acid, 2-hydroxy-, 3,3,5-trimethylcyclohexyl ester), Octisalate (Ethylhexyl Salicylate).
Better: natural certified mineral (also known as physical) sunscreen. Look for non-nano Zinc Oxide and/or Titanium Dioxide at the top of the ingredient list.
You might also like:
MÁDARA mineral sunscreens for face and body

OCEAN LOVE limited edition skincare collection to raise awareness of the environmental footprint of the beauty industry