Words by Elina Brukle | 12 October 2021
With the launch of the long-awaited MÁDARA mascara, our team dared to embrace uncertainty and question the traditional beauty advertising customs, turning the process into a creative experiment itself.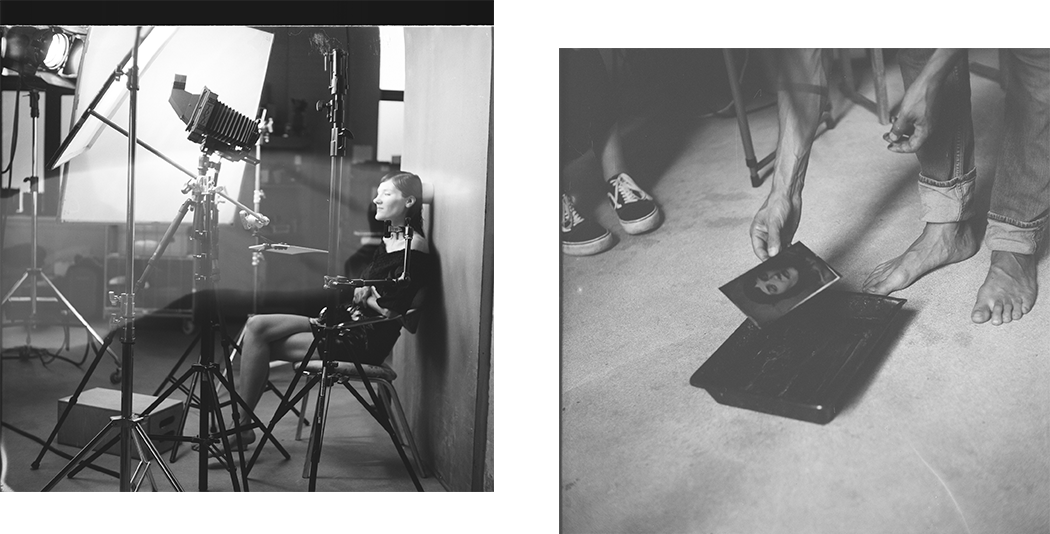 Backstage photos by Liene Drazniece, shot on 120 mm film
It's a sultry day in July when we all meet at Maris' photo studio in Agenskalns — one of the most atmospheric suburbs in Riga, historically rich, a little sentimental and untamed at the same time. The mood is free and easy, and the temperature in the large studio is pleasantly chill.

It's the first day of shooting the Deep Matter campaign, and we are starting with analogue photography for the campaign's key visual imagery.

MEET THE MUSE
She comes in with a large smile on her face. Liene Podina, a Latvian-born and world-renowned
fashion model, and the face of MÁDARA Organic Makeup since its launch in 2019. Liene has studied design at the Art Academy of Latvia, and now continues with fashion branding and art direction studies in Amsterdam. A kind but self-assured personality, simply nice to have around.

Due to her peculiar beauty, Liene was met with restraint for years, but now takes part in the world's most prestigious fashion shows and editorials. Two years ago, VOGUE magazine ranked her among the seven brightest faces on the Haute Couture runways.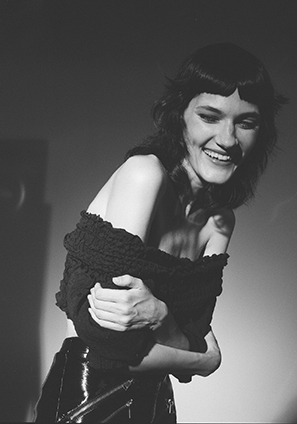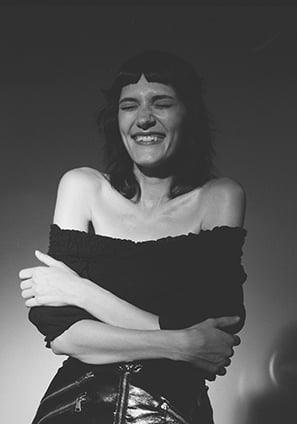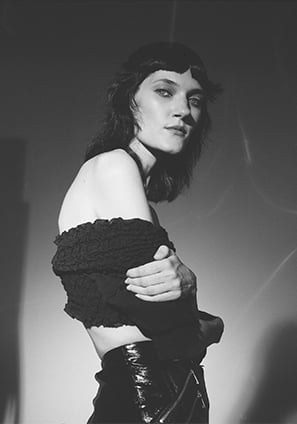 Liene Podina. Backstage photos by Liene Drazniece
"I felt like a little child. A unique experience today. Exciting and maybe even a little disturbing, because of the unpredictable outcome."
- Liene Podina, MÁDARA muse
THE WET PLATE TECHNIQUE
Wet plate, also known as wet-collodion photography, was invented in the middle of the nineteenth century. It is captured on a silver plate, prepared in the darkroom right before the shot, and developed right after the exposure.

It's one of Maris Locmelis' professional passions for 7 years now.

There's something charming and even a bit rebellious about analogue photography in today's world of countless carelessly captured and heavily retouched digital images.

Maris puts a freshly prepared plate, covered with a mixture of chemicals, into the camera. Liene sits,
looking closely into the lens and trying not to move.

At first, the will to chat and laugh with others is strong, but with every next shot Liene seems to wander further away in her own thoughts.

Every shot implies a moment, when she fixates the posture, left alone with herself. How does a person feel at that moment? What is she thinking about and how does she feel? Relaxed and free in the absence of others, or quite the contrary – stiffened, willing to look good in the eyes of the potential beholder? These were the questions we raised and tried to answer along the way.

Our talks and Liene's personal stories transformed into the scenario for the Deep Matter movie.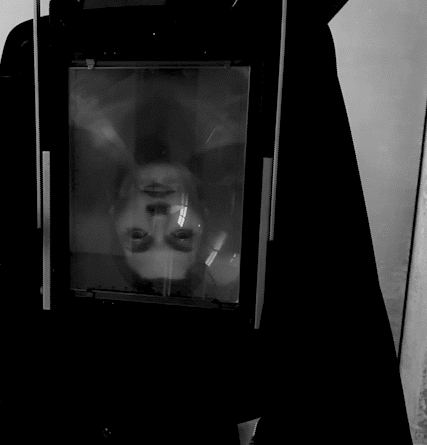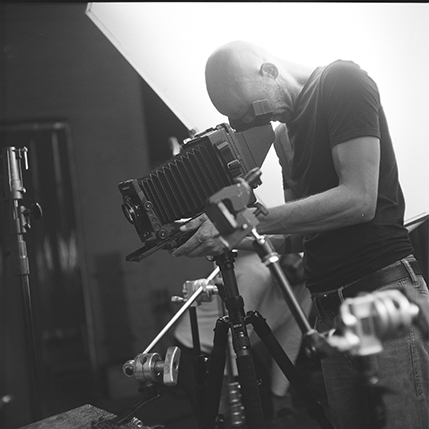 "It's a lot like capturing one's soul."
- Maris Locmelis, photographer
After every exposure, Maris disappears in the darkroom, then comes out holding a plate, on which Liene's image slowly starts to appear. This day results in 10 images, inimitable and very different from one another.
FROM POSING TO (SIMPLE) BEING
Our initial aim was to capture a direct and authentic gaze, free from cliché expression, superficial emotion or the resemblance of one's social roles. The wet plate technique seemed like the perfect way to get there.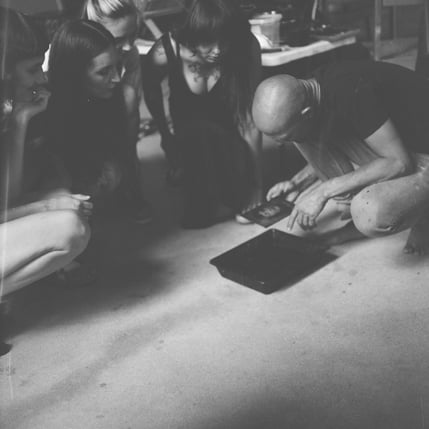 "What you often see in beauty advertising – images of captivating women, trying to seduce the viewer. We wanted to untwine the actual motifs for using mascara or makeup in general, looking deeper into what eye contact, visual appearance and makeup meant for each of us, both professionally and individually."
- Liene Drazniece, MÁDARA art director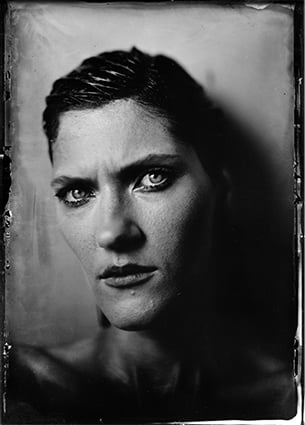 Wet plate photography by Maris Locmelis
We wanted to merge advertising and art together, blurring the boundaries and breaking down the assumptions that advertising must conform to certain beauty canons in order to be captivating.

Is there such a thing as an authentic gaze? Well, there might be. But what are your thoughts?
Photo/video: Maris Locmelis | Art Direction: Liene Drazniece | Makeup: Anete Salinieka | Hair: Diana Payton
THE BACKSTAGE TALKS

Liene Drazniece: I had this observation. I was looking for a deep gaze, for some truthfulness. I kept that legendary National Geographic girl in my mind1.

Liene Podina: yes, that girl with the green eyes.
Liene Drazniece: those eyes are the only thing you see. They say everything. It gives you goosebumps. I was looking for that kind of gaze in women. It's not easy to find.

Liene Podina: I think it's the life story. There was a lot of pain in her eyes, and it seemed like she was not happy to see that photographer either.

– How do people establish contact before saying a word?
– With their eyes, it's the first.
Liene Podina: as soon as you capture yourself in a photo, you give your face to many people. And you have to face the fear, that not everyone will like you. Not everyone will see you as pretty. Maybe this is where those emotions come from. You start thinking, what should I be like?

Liene Drazniece: it is a very intimate process.

Liene Podina: yes.

Liene Drazniece: how do people establish contact, even before saying a word? You take a glimpse, understand something and only then do you start to speak.

Liene Podina: first with the eyes.

Liene Drazniece: when you understand that, it's actually not that easy to look everyone in the eyes. If you are seeking true contact without faking anything.
Liene Podina: I experienced this with Patrick (photographer Patrick Demarchelier). He has photographed many celebrities and at that moment I began thinking: who am I in front of him? Then I understood – yes, that is him, and we are creating art here. I am there because, he saw something in me, he wanted me to be me. It was what fascinated him. There was also someone shouting: We booked you to be like a boy, what are you doing?, but Patrick whispered: No, you are beautiful, just do what you are doing, don't listen to him. Whom should I listen to? The one, who sees me through the camera and allows me to be myself, or the one, who makes me pretend?

Liene Podina: tenderness is not my comfort zone. I had to learn to achieve this emotion in my face. I got hold of this in one photoshoot – I don't know what my face is doing, but if I have that tender, dreamy feeling inside me, it will also show on the photos.

"As soon as you capture yourself in a photo, you give your face to many people."
- Liene Podina, MÁDARA muse
Elina Brukle: what about this idea of the true being, the true self? Haven't we just made it up? Or do you think it's something to be found?
Liene Podina: I think it happens, when you learn to love yourself the way you are. You can wake up in the morning and choose not to wear makeup to hide anything. Then makeup is another extra step, which makes you feel even better. To me being true means being at peace with myself. At least to me. When I no longer criticise myself, even on bad days.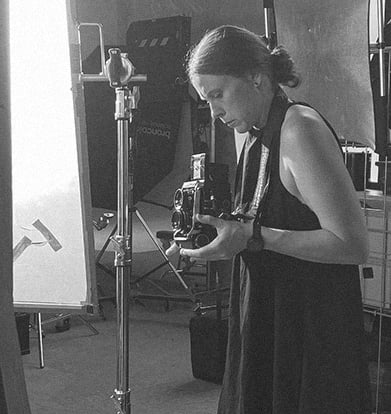 Liene Drazniece
Liene Podina: Brian Molko could wear a dress on the stage, all that hair... Sometimes couldn't tell – a guy or a girl. He was my favourite artist for years. I love duality.

Liene Drazniece: when looking at makeup, what do you find interesting?

Maris Locmelis: if you cannot notice it.

Liene Drazniece: when you meet someone, how do you establish contact with this person? How do you do this as a photographer?

Maris Locmelis: to be honest, I don't intend to find out anything about the other person. I allow them to be themselves in front of the camera, I do not give instructions. Of course I have my setting, according to which I'm working, but I don't want to provide my guidelines or narrative, that could somehow limit the person in his or her expression.

Liene Podina: I only wear mascara, if I'm truly sure that I want to communicate with my gaze.

Maris Locmelis: I would definitely notice a woman, who had only put on mascara or done her eyebrows. It's a moment she has devoted to herself to make her eyes stand out even more. You simply notice that something has changed.

Liene Drazniece: what I'm interested in – what we like to look at, how we perceive people, and what it says about us as a society. It is often very hard to look others in the eye. Or simply catch the eye contact. What is it that people are afraid of?
---
1 Afghan Girl by Steve McCurry, June 1985 cover of National Geographic.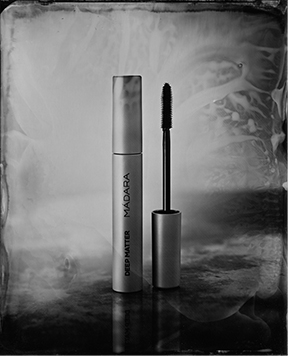 COMING SOON
26 October
deep matter
Bold Volume Mascara