Author: Elza Birzniece | Reading time: 6 minutes
A wayward rebel who wears her silver hair with pride, Fransje knows a thing or two about challenging mainstream beauty standards set for women. Here, she talks aging gracefully, embracing her natural grey hair and skincare practices.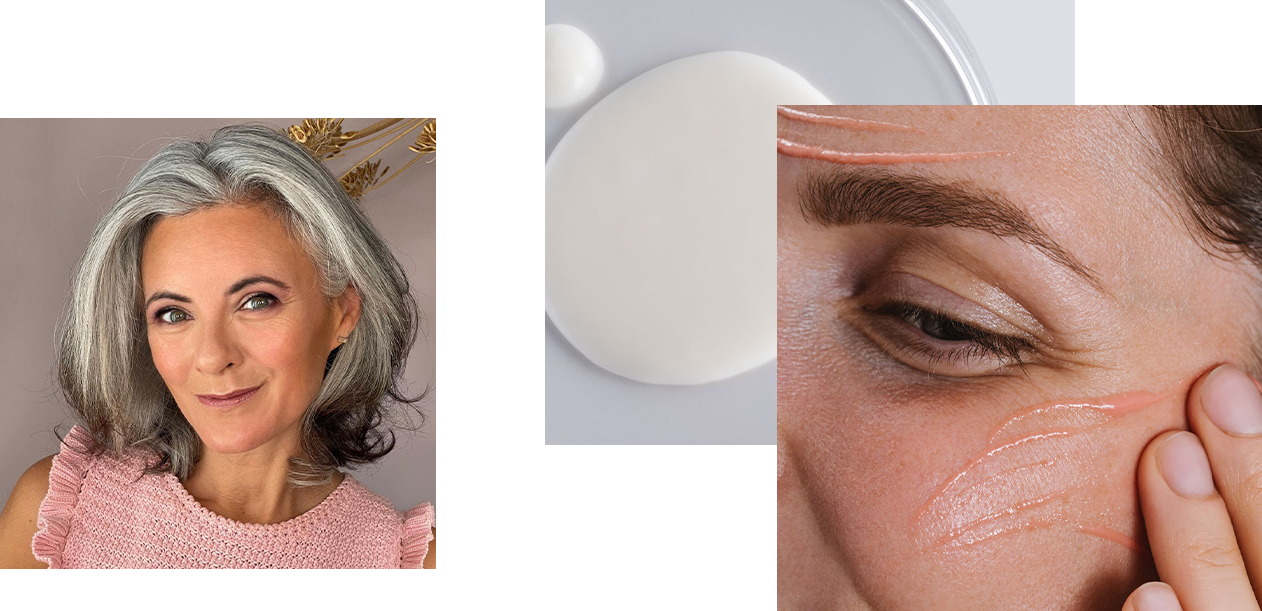 How would you describe yourself
in 1–2 sentences?
I'm Fransje – a 52 years young woman, mom of 4 and communication specialist that loves inspiring other women with my Cruella de Vil hair through my Instagram @silver.isthenew.black. Driven, passionate and caring are the words I'd choose to describe myself.
Could you tell us about your wonderful idea to grow out white hair – how did it start?
I pulled out my first grey hair at 17. At first I experimented with hair dye just for fun and then to cover the greys, but in recent years I developed an aversion to it. My outgrowth was a beautiful silver, and I started to feel a bit guilty when a tub of dye went over it. That's why in early 2020 I decided to give my greys a chance and share my journey on Instagram. The cliché that grey hair is considered old-fashioned is now being overturned, partly thanks to social media.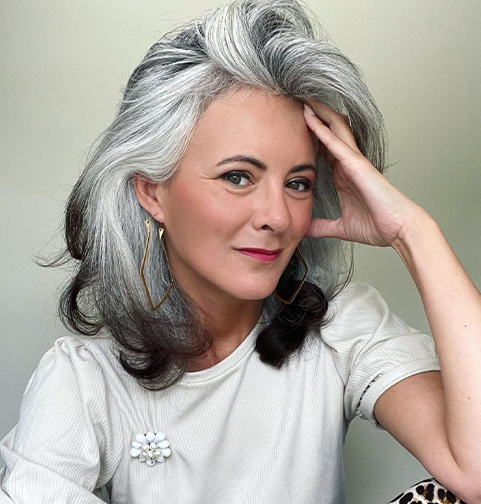 How did you feel about age when you were in your 20s, and how do you feel about it now?
When I was in my twenties, I'd shudder at the number 5. Yes, 50 does come with certain changes that aren't always pleasant, however, there's now plenty of time to reinvent yourself.
For me, the new 50 is this – don't worry about what others think, put on that red dress, take your skincare to the highest level, start learning what you always wanted to and buy that expensive shaping bodywear!
Brands that only target young women should tune their policies – the woman in her fifties is loyal, has money to spend and has never been this confident and sexy.
Who inspires you? With their style, energy or approach to life?
Awe-inspiring women who have changed the world. Frida Kahlo, her passion and distinctive style. Grace Kelly and her serene elegance. Audrey Hepburn, her loving, beautiful appearance. The energy of the queen of reinvention – Madonna. And Michelle Obama with her courage, devotion and intelligence.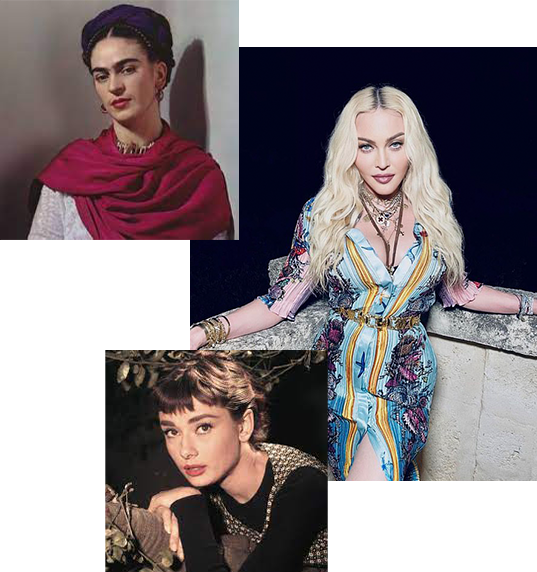 What impact might social media have on challenging beauty stereotypes and how does your own digital presence fit into this?
Social media can sometimes be a source of frustration, but I think it also has a beautiful side that can inspire others to be their best selves.

I'm a wayward rebel who wears her grey hair with endless pride – my digital presence amplifies that.
Being grey is not ''the end'', you can still be beautiful, sexy, and even look younger with grey hair.
My Instagram @silver.isthenew.black is a platform for me to advocate this.
How would you describe your style?
The common thread for my style is less is more. I'd describe it as effortless, femine, laid back, elegant.
What makes you feel beautiful?
My sense of self-worth, feeling confident in my own skin. Doing the right things for the people around me, treating myself right. A good hair day definitely helps, too.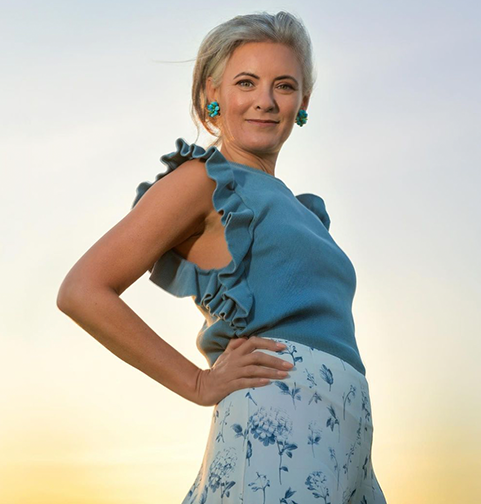 Let's talk skincare – how much attention do you pay to your skincare routine? Any favourite products?
Skincare is very important to me. I believe good cleansing and regular exfoliation are the basics. Once something works for me, I'm very loyal, and MÁDARA was a real discovery – my skin responds particularly well to organic ingredients. My personal favourites are the Vitamin C line-up for skin firmness and Time Miracle line. Amino-fill 3D Lifting Booster is an ideal 10-day DIY treatment when I don't have the time to visit my beautician, while Custom Actives Plant Stem Cell Concentrate is a great antioxidant boost for my skin.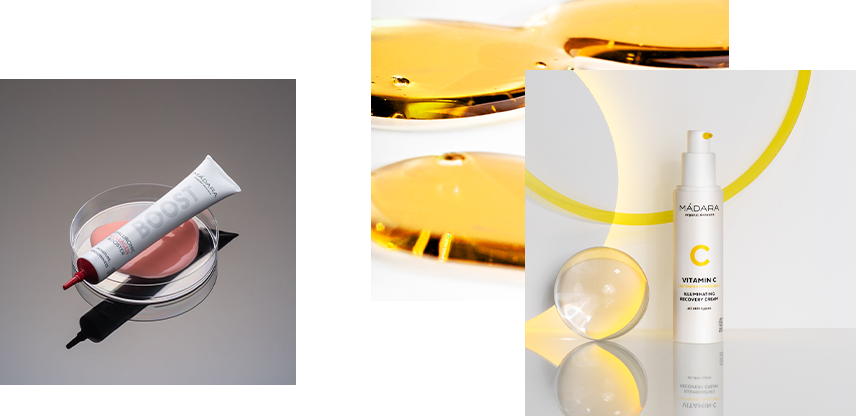 What do you expect from your skincare? How do you choose your products?
All these products, ingredients, scientific terms, 'must have' claims… It's so overwhelming. I learnt that finding a good product can't be done overnight. A product works for me when I wake up with glowy skin that feels well-hydrated during the day.
Also, consistency is key. Sometimes you realize how much a product works only when you stop using it. I have a light form of rosacea and my skin was calm as I was using Vitamin C Illuminating Recovery Cream, it worked perfectly. But my skin immediately became more restless when I changed my routine.
How about makeup? What's your go-to look?
I like lightweight foundation – my friend, MUA Anita Jolles introduced me to Skin Equal Soft Glow Foundation, and I was amazed by the natural effect on my skin. I admire the polished and sculpted looks from younger women, but that's not really my thing. For me, the keywords for a go-to look are casual and natural. But an eye pencil and good mascara – like the Deep Matter Bold Volume Mascara – will continue to rule.
How can we embrace our age, celebrate our beauty and have grace regardless of any numbers?
Let go of what you think it means to be old. Let go of anything that is holding you down. Let go of anger and learn to forgive – you don't want any more wrinkles. Indulge yourself in new challenges. Have young and old friends. Be part of the world around you. Find your passion, relax and laugh a lot.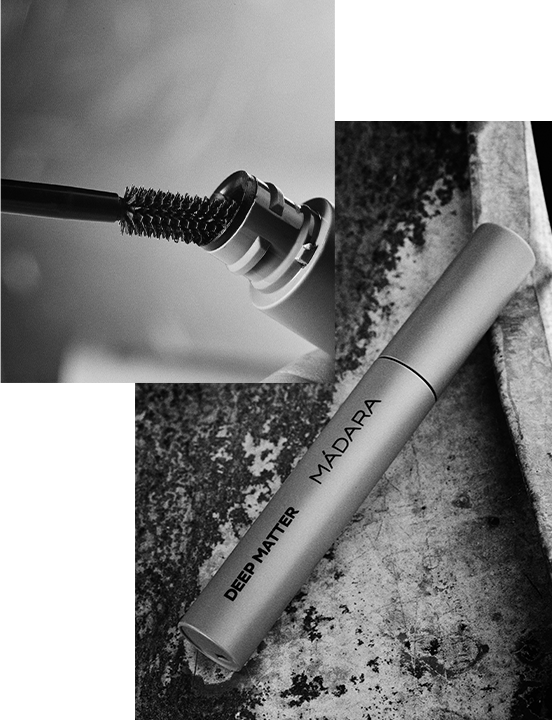 Could you share with us your favourite book and what song you've currently got on repeat?
My favourite book at the moment is ''The Power of Now'' by Eckhart Tolle. I've already recommended it to many others, and they've grown tremendously from Tolle's wisdom.
I've got my latin playlist on repeat, which features ''Electricity'' by Silk City, ''This Girl'' by Kungs vs Cookin' On 3 Burners and ''Shined On Me'' by Praise Cats. All great Cha Cha Chas… I love latin dance!